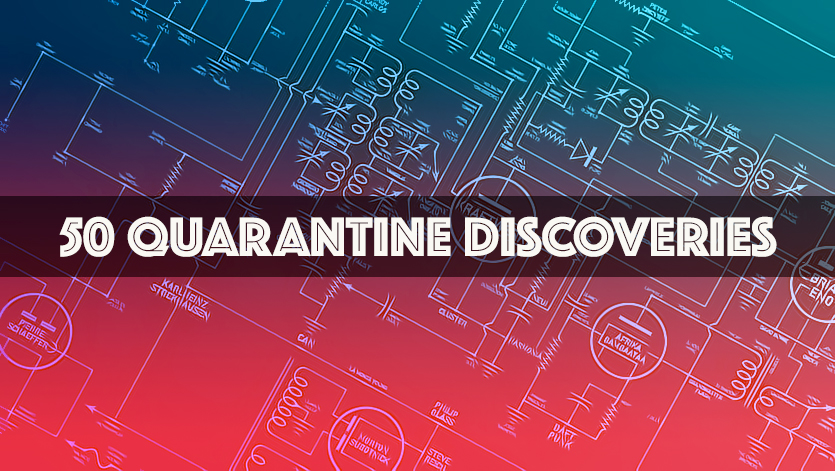 Hello, I'm Økapi, today, rather than publishing a playlist, a djset, a liveset or a livestream, I would like to share a list where I have collected some of the most recent productions of international post-electronic artists listened carefully in the last few months of quarantine. What makes these productions very interesting for me is the ability to divert the concept of musical genre while maintaining, in the balance, a link with a pop conception.
I thought it was good to link the bandcamp pages of artists and labels because I believe that especially in these days it is right to support economically this type of creative activity.
Happy listening from Økapi!
01 – Gross / scratch by Recovery girl
https://o0o0o0o0.bandcamp.com/album/gross-scratch
02 – The end of muscly by Morusque
https://wabi-sabi-tapes.bandcamp.com/album/the-end-of-music
03 – Kikuo Miku 6 by Kikuo
https://kikuo.bandcamp.com/album/kikuo-miku-6
04 – Holy Six by Silént phil
https://internetghetto.bandcamp.com/album/holy-six
05 – Impazamo by Menzi
https://hakunakulala.bandcamp.com/album/impazamo
06 – Nostalgia Por Mesozoic by Nikolaienko Meets Arthur Mine
https://muscut.bandcamp.com/album/nostalgia-por-mesozo-ica
07 – RVKIT
https://rvkit.bandcamp.com/
08 – BXTCH SLÄP by Jasmine Infiniti
https://jasmineinfiniti.bandcamp.com/album/bxtch-sl-p
09 – Ordinary Songs 5 by Snail's House
https://0101.bandcamp.com/album/ordinary-songs-5
10 – Tachyon Particles by Siu Mata & Amor Satyr
https://hiedrah.bandcamp.com/album/tachyon-particles
11 – TATTOOED PARROT FISH by FRAGILE
https://calmdot.bandcamp.com/album/tattooed-parrot-fish
12 – FYAI Demos + Ditched Album by Loraine James
https://lorainejames.bandcamp.com/album/fyai-demos-ditched-album
13 – For Alan Turing by Matmos
https://matmos.bandcamp.com/album/for-alan-turing
 14 – Amu by Iglooghost
https://iglooghost.bandcamp.com/track/amu
15 – The Recurrence of Infections [复发感染]by bod [包家巷]
https://baojiaxiang.bandcamp.com/album/the-recurrence-of-infections
 16 – yin – yang Street Mix by King Doudou
https://editions-gravats.bandcamp.com/album/yin-yang-street-mix
17 – Recovery girl (Deluxe Edition) by Recovery girl – aka @Galen Tipton
https://orangemilkrecords.bandcamp.com/album/recovery-girl-deluxe-edition
18 – Symphony20 by MICHELANGEL0
https://wearetar.bandcamp.com/album/symphony20
19 – How More Can You Need? by Larry Wish
https://larrywish.bandcamp.com/album/how-more-can-you-need
20 – Fantasy Violence by LIGH TN ING
https://ashidapark.bandcamp.com/album/fantasy-violence
21 – We're Good by Romeo Rucha
https://romeorucha.bandcamp.com/album/were-good
22 – Workaround by Beatrice Dillon
https://beatricedillon.bandcamp.com/album/workaround
23 – Egg ray test hits cow action by Gilbert
https://gelbart.bandcamp.com/album/egg-ray-test-hits-cow-action
24 – Forlorn Hope by Noer the Boy
https://courteousfamily.bandcamp.com/album/forlorn-hope
25 – Diagnostics by Matthew D. Gantt
https://orangemilkrecords.bandcamp.com/album/diagnostics
26 – God Has Nothing To Do With This Leave Him Out Of It by Backwash
https://backxwash.bandcamp.com/album/god-has-nothing-to-do-with-this-leave-him-out-of-it
27 – 月之破滅 ✿ disappear with moonlight by Yikii
https://yikii.bandcamp.com/album/disappear-with-moonlight
28 – Nice Cardigans by Colugo
https://colugo.bandcamp.com/
29 – A new old time's sake by Sharp Veins
https://sharpveins.bandcamp.com/album/a-new-old-times-sake
30 – Central de Abastos by Thiaz Itch
https://prootrecords.bandcamp.com/album/central-de-abastos
31 – Macula Dog by Macula Dog
https://haord.bandcamp.com/album/macula-dog
32 – Time And Time Again by People Like Us & Wobbly
https://peoplelikeus-vickibennett.bandcamp.com/album/time-and-time-again
33 – issue fifteen | untitled by future collective
https://phuturecollective.bandcamp.com/album/issue-fifteen-untitled
34 – Excursion by Morusque
https://morusque.bandcamp.com/album/excursion
35 – Departing by Fidus Achates
https://fidusachates.bandcamp.com/track/departing
36 – Les couplets estocastiques by L'Orquestra Midiambiental
https://prootrecords.bandcamp.com/album/les-couplets-estocastiques
37 – If I don't let myself be happy now then when? by More Eaze & Claire Rouse
https://mondoj.bandcamp.com/album/if-i-dont-let-myself-be-happy-now-then-when
38 – Lumens & Profits by Myriam Bleau
https://wheretonow.bandcamp.com/album/lumens-profits
39 – PD100: INTERNATIONAL NOP UNDERGROUND by Pedicure Records
https://pedicurerecords.bandcamp.com/album/pd100-international-nop-underground
40 – Goddess of the Hollow by City Girl
https://city-girl.bandcamp.com/album/goddess-of-the-hollow
41 – What Wands Won't Break by Daedelus
https://daedelusmusic.bandcamp.com/album/what-wands-wont-break
42 – Angel Number 19 by Saint Caboclo
https://saintcaboclo.bandcamp.com/album/angel-number-19
43 – From Rotting Fantasylands by Nero's Day At Disneyland
https://laurenbousfieldanyev3r.bandcamp.com/album/from-rotting-fantasylands
44 – Living In A Dreem by Banshee
https://bansheemusic.bandcamp.com/album/living-in-a-dreem
45 – Passions by Copout
https://copoutmusic.bandcamp.com/album/passions
46 – Disruption by Modulaw
https://modulaw.bandcamp.com/album/disruption
47 – Gen by Bby Eco
https://slagwerk.bandcamp.com/album/gen
48 – CLAM003 | FANTASIA EXFORMATION PRINCIPLE by VORONHIL
https://clam-pressure.bandcamp.com/album/clam003-fantasia-exformation-principle
49 – 動亂星 Stars of Turmoil by GG Lobster
https://gglobster.bandcamp.com/album/stars-of-turmoil
50 – The Disappearance Of Memories by migu
https://music.takearestnow.com/album/the-disappearance-of-memories
Bonus+
Gateway Summer Sound: Abstracted Animal and Other Sounds by Ann McMillan
https://annmcmillan.bandcamp.com/album/gateway-summer-sound-abstracted-animal-and-other-sounds