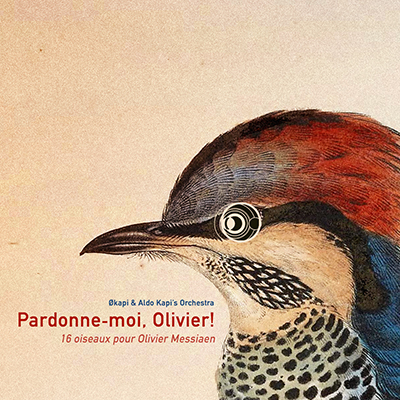 Pardonne-moi, Olivier!
16 oiseaux pour Olivier Messiaen
OCD035: Off-Record label /Broken Silence
Buy the CD on Bandcamp: slappress.bandcamp.com
Økapi: Direction
Geoff Leigh: voice, soprano sax, flutes
Mike Cooper: guitars
Simone Memè: live visuals
Aldo Kapi's Orchestra: Olivier Messiaen – Jon Appleton – Senking – David Berezan – Kyoka – Marc Tremblay – Aoki Takamasa + Tujiko Noriko – Paul Dolden – Ryoji Ikeda – Mochipet – Elsa Justel – Circuit Bent- Subjex – Mr. Ours & 4bstr4ck3r – Coh – Martin Leclerc – Herve Boghossian – Monty Brigham bird sounds collection – Adrian Moore – Signal – Christian Bouchard – Anemone – Kangding Ray – Louis Dufort – Hildur Gu›nadóttir – Wolfgang Voigt – Marc Tremblay – Atom Tm – The Three Suns – Åke Parmerud – Emptyset – Spontaneous Music Ensemble – Ivor Darreg
Preview:
The album is a plunderphonic parabola of the imaginary world, mystical and ornitological, of the French composer of the XX century, Olivier Messiaen. A sort of birds' catalogue, as Messiaen tried to do during his life.
Because of his dixit plunderphonic nature, and for the occasion, Økapi involved Geoff Leigh (sax/flute) and Mike Cooper (guitar) into his phantomatic virtual orchestra.
Geoff Leigh (voice, soprano sax, flutes). Well known for his work in the 70's with Henry Cow, Hatfield And The North, Slapp Happy etc., Leigh then went on to play world music, post-rock, free jazz, and electro-acoustic music. For several years he has collaborated with Faust, and his current projects include The Artaud Beats (Chris Cutler, John Greaves, and Yumi Hara), Jump For Joy (Cutler, Hara, and long-standing Faust members JH Peron and Zappi Diermaier), Warrior Squares (English electronica group), and guitarist Makoto Kawabata (Acid Mothers Temple). Since 2009 he has toured Japan four times (with The Artaud Beats), and has played on numerous occasions in England, France, Belgium, Germany, Italy, Scandinavia, the Baltic countries, and Russia.
Mike Cooper (guitar). Currently lives in rome/italy and for the past 50 years has been an international traveller and musical explorer pushing the boundaries of his music and art. He is an improviser working with music, film and video; visual and installation art as well as composing and performing live music for classic and contemporary silent film screenings. His full biography and extensive discography can be viewed on his website: www.cooparia.com.
The audio-video live performance by Økapi and Simone Memè
From the album, Økapi conceived a audiovideo live performance together with the italian videoartist Simone Memè. See the teaser of the performance and go to the page of the project!
Økapi – Memè – Pardonne-moi, Olivier! – Live performance per Circuiterie / Cinema Palazzo.
Extracts from reviews:
NOISEY VICE: The magician of Italian plunderphonia returns! https://noisey.vice.com/it/article/recensioni-9-03
ROCKERILLA, April 2017: Avant exoticisms that marry contemporary classical and evolved electronics. Jewel!
GLI STATI GENERALI: Playful but very serious, exotica OGM that paradoxically sounds more authentic and pure than any source, this is perhaps the most beautiful and mature work of an artist like Økapi, who is a shy guy, but that should be a pride of our electronic music. http://www.glistatigenerali.com/musica/cinque-dischi-che-non-potete-perdervi-a-marzo/
RUMORE MAGAZINE, April 2017: An exhilarating chirping of sampling in which to lose oneself.
MUCCHIO SELVAGGIO, April 2017: A surprising cocktail of field recordings, airy melodies and unexpected openings, spooky electronics and even hip hop beats.
BLOW UP, January 2017: 16 varied movements, where the experimental attitude that gives body to dense and cinematic pages, is combined with a refined sensitivity for rhythmic dub and downtempo panoramas, without ever being too abstract or abstruse.